6 Signs If You Need To Visit Computer Repair Store
Computers are an essential part of our daily use, so when they break down, it can be disturbing and frustrating.
How Do You Know Your Computer Is Dying?
No matter how good a computer is, it needs to be fixed at some stage. Do not wait for the computer to expire. It's important to be aware of the warning signs of dying your PC so you can take it for a repair before it affects your important work or business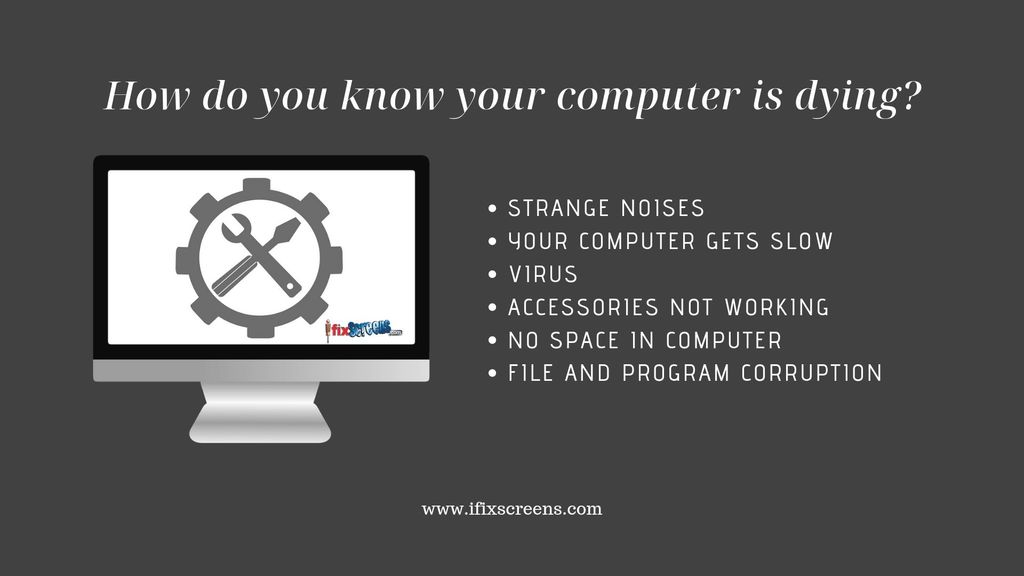 Here are the 6 signs that define you need to visit computer repair service:
Strange Noises:
If you notice any unusual audio such as buzzing or whirring, it is possible that your fan may be damaged. If the weird noises continue, run a systems diagnostics program to know whether your computer really is on its last breath. If you do not take your computer for repair, it could damage your computer's motherboard.
There are a few types of weird sound problems
Fan sound

The hard drive's death crash

BIOS beep codes

Corrupt speaker sounds
Your Computer Gets Slow:
Slow computers are extremely frustrating; especially when they are irresponsive and interrupt your workflow. Computer screen freeze when you have more than six tabs open in your browser and you can type a full sentence before a single word appears on the screen.
Some of these bugs can be improved to an extent by giving your computer a thorough spring clean. If you've run updates and restarted your computer and if there are no changes, it's time to call in a professional computer repair service. Maybe the programs you have run on your computer aren't actually well-suited with your system.
Generally, a slow computer means that hard drive needs to be replaced. Get computer repair as soon as possible to save money from buying a new computer.
Virus:
Many laptop owners have faced viruses. It could be that many of them are not using the right anti-virus protection software. Some users fail to update to their present antivirus while others mistakenly use none at all. More than 20% of attacks by a virus are due to Trojan infections and 60% of attacks are very dangerous ones leading to a breach of security or complete loss of the laptop's functionality.
Below are the symptoms when your computer affected by virus:
Your computer is working slower, or it takes longer to open programs or get work done

You may see irritating adverts displayed on your PC screen.

Pop-up messages on the laptop screen

The homepage of your browser has been changed without you made any changes.

You are informed that people have received strange messages from an email sent from your account

You are not able to gain access to your Control Panel

Many icons installed itself on your desktop
When your laptop is no longer working, or your data is at risk, it's time to call in the professionals.
Accessories Not Working
Sometimes problems not with the computer itself but due to external accessories computer not work. One of the most common problems is the battery not charging due to a battery or adapter fault; so it's important to take care of your laptop battery and its accessories from the day when you have purchased it.
Sometimes there is also a problem in the printer, mouse slow to respond, trouble in connecting chargers and other devices to your computer.
No Space In Computer:
If your hard drive is being clasped for space, and you open the system monitor on your computer and see that the RAM is all in use when you've got a few apps open.
The CPU usage is routinely hitting more than 90%, and then it's a sign that you're reaching the limits of what your hardware is capable of doing.
All 5 above are the most common signs that your laptop is trying to tell you it's time to send it for a check-up. Don't take these things easy, else your laptop might end up getting even more serious damages and caused you to spend even more money to get a new one.
File And Program Corruption
A file generally becomes corrupted when a problem occurs in saving any file. If your computer loses power or crashes as you save a file, there is a chance that the file will become corrupted.
What Causes A Corrupt File?
Bad Sectors

Cross-Linked Files or Lost Clusters

Infected Files and Viruses

System Crashes
Looking For A Computer Repair Service?
iFixScreens offers same day computer repair service. We have locations in New York, Georgia, and Florida for your convenience. Our store carries a range of accessories and protection plans for your gadgets. Get prepaid wireless plans to save you money on your wireless bill, pay your bills and refill your prepaid plans with same day repairs experts at iFixScreens.com. Come see us today! No Appointment is needed! Most repairs are completed on the spot.
Below is our mailing address for Mail-in Repair Service.
iFixScreens
Attn: Mail-In Repair Service
203 Centereach Mall
Centereach, NY 11720
Phone: (855)462-4349