HIGH QUALITY HP OMEN LAPTOP REPAIR
Fast, Affordable & Durable
Reliable repair for the HP Omen Laptop you depend on most
Common HP Omen Laptops Repair Problems
Why Choose Us?
If you accidentally dropped or damaged your Laptop and cracked the screen, get it repaired by professional technicians. iFixScreens offer a same-day repair service for HP omen Laptops.
iFixScreens technicians use the highest quality OEM standard parts in every repair we have done, So you can relax and not worry about its durability. You get the best quality parts across all iFixScreens locations.
At iFixScreens, every repair comes with a 180-day warranty on it. If anything happens after the repair, you can use this warranty. You can claim this warranty at any iFixScreens Store in the USA.
Any repair on your HP Omen is performed by iFixScreens experts who are highly skilled and certified. We've covered you, from crack screen replacement to data recovery. We're here to help you.
Most Preferred Stores for HP OMEN Laptop repair
We are always near you to provide the same-day Laptop repair! Know what customers say about the HP Omen Laptop Repair service provided by iFixScreens. You can call us to schedule an appointment for your repair if you don't want to wait. Invite your loved ones, friends, neighbors, and coworkers to benefit from a special offer right now! If you have already been to our store and want to share your experience, we would love to know about it. Your honest comments will be helpful to us.
SOME OF THE COMMON HP OMEN LAPTOP PROBLEMS WE FIX
HP Omen

Laptop Camera Repair
If you face any issues in your HP Omen camera, such as camera not detected, clarity issue, etc. Then Visit Your Nearest iFixScreens Store. Our technicians are highly qualified to resolve all camera-related problems.
HP Omen

Laptop Battery Replacement
Is the device not holding a charge? Does your HP Omen Laptop have short battery life? You could need a battery replacement! Get one installed by professional technicians At iFixScreens.
HP Omen

Laptop Motherboard Issue
Is your HP Omen Laptop motherboard having issues? Is your Hp laptop completely dead? iFixScreens is a reliable and affordable expert in Hp motherboard repair. We offer same-day Hp motherboard repair services.
HP Omen

Laptop Screen Replacement
Is your HP Omen display not working, or has your Laptop Screen got broken? Get it fixed by qualified professionals At iFixScreens. We repair your Laptop on the same day or within 30 mins.
HP Omen

Laptop Water Damage Repair
After a drink spill or liquid submersion, is your smartphone not functioning correctly, or is the screen display messed up? Worry not. Our certified technicians can repair your water-damaged Laptop.
If your computer is feeling a little sluggish, there's a chance it is time for a tune-up! Visit iFixScreens. We may help you remove temporary files, potentially unwanted apps, and unnecessary background services to improve your computer's performance.
One STOP SHOP FOR ALL hp omen models
iFixScreens is your local HP laptop & computer repair shop in New York, Georgia, and Florida. Customer service is our primary goal. Every year, iFixScreens stores repair hundreds of Laptops, regardless of brand or condition. We specialize in repairing HP Omen Laptops. Whether you know what's wrong with your Laptop or need help diagnosing your device, We are here to help. We Provide Services for HP Omen Screen Replacement, HP Omen Battery Replacement, HP Omen motherboard repair, HP Omen Camera Repair, water damage repair, etc. At iFixScreens, we ensure that all our professionals are qualified to handle the required Laptop repairs. No matter the brand or model, our professionals are skilled and can complete any repairs with high consistency.
Affordable hp omen Laptop REPAIR STORE NEAR ME
Providing you with the best quality at the lowest price is our main goal at iFixScreens. At our stores, every HP Omen Laptop year-round repair starts with a free diagnostic, so that you know the cost of repair upfront without paying a dime. In case you get a better offer for the same or better quality repair, we promise to beat that price by $5. To keep you covered, on all HP Omen Laptop repairs you also get a hassle-free 180-day warranty that you can claim across our nationwide iFixScreens stores.
At iFixScreens we are a huge supporter of Healthcare workers and Veterans. And thus, we provide a special 10% discount on all repair services and 20% discount on any accessory purchases made across iFixScreens stores. We also provide similar discounts year-round to university students and teachers. So next time don't forget to ask for your special discount!
What is the cost of HP Omen Laptop repair?
Generally the cost of a HP Omen Laptop repair starts from $99.99. The cost of repair is subject to the type of repair required and for which model it is.
What is the cost of HP Omen Laptop screen repair?
I dropped my HP Omen Laptop in the water, what should I do?
How to recover the lost data on my HP Omen Laptop?
My HP Omen Laptop's battery is draining to quickly, what should I do?
Do you provide warranty on HP Omen Laptop screen repair?
No Matter what Model it is, we Can Fix it
If your HP Omen Laptops need a fix, bring it to the professionals at iFixScreens! iFixScreens provides an expert, affordable, and fast HP laptop repair service. Any part we install on your HP Omen Laptop must meet OEM quality standards. From the Omen 15-ce Series to the latest HP Omen Model. We fix all! The most common repairs we perform are hard Disk repair, keyboard repair, mouse repair, motherboard repair, RAM upgrades, processor replacement, motherboard repair for HP Omen, and even data recovery services. If you are unsure about what is wrong with your Laptop, visit your local iFixScreens store to get a free initial diagnostic. Our technicians will help you with the best possible solution at the lowest repair cost.
180 Day Warranty On HP OMEN Laptop Repair
At iFixScreens, With every repair, you will get a hassle-free 180-day warranty on any new parts we install on your device. Any part we install on your Laptop must pass the strictest OEM quality standards. Furthermore, all HP Omen Laptop repairs are completed by certified professionals. It guarantees that we can offer you a warranty against manufacturing flaws. You can claim at any iFixScreens location near you. For additional information on the warranty policy, click here.
SELL YOUR HP OMEN Laptop For INSTANT CASH.
Need to sell your older, outdated, or damaged Laptop? Do you own any unused, old iPads or iPhones? And don't you want to buy a new laptop with the money from selling your old one? If the answer is yes, then iFixScreens is here to help you.

iFixScreens laptop trade-in service will buy your laptops, Mac, or any other consumer electronic devices, old, used, or even broken. Trade-in your old tech and get cash for it.
Walk into your nearest iFixScreens store.
Present your used HP Omen Laptop and ask for a quote.
Get an instant Offer; collect your cash!
SPECIAL OFFERS ON HP OMEN Laptop REPAIRS
Providing excellent service and quality is Our Goal! Because of this, we ensure that each of our specialists is qualified to do the repairs you require. We regularly evaluate the quality of the spare equipment we use, and we also regularly train our experts. This keeps them updated with the most recent technological advancements. You may rely on our technician's skills to revive your devices because we perform more than a million repairs annually.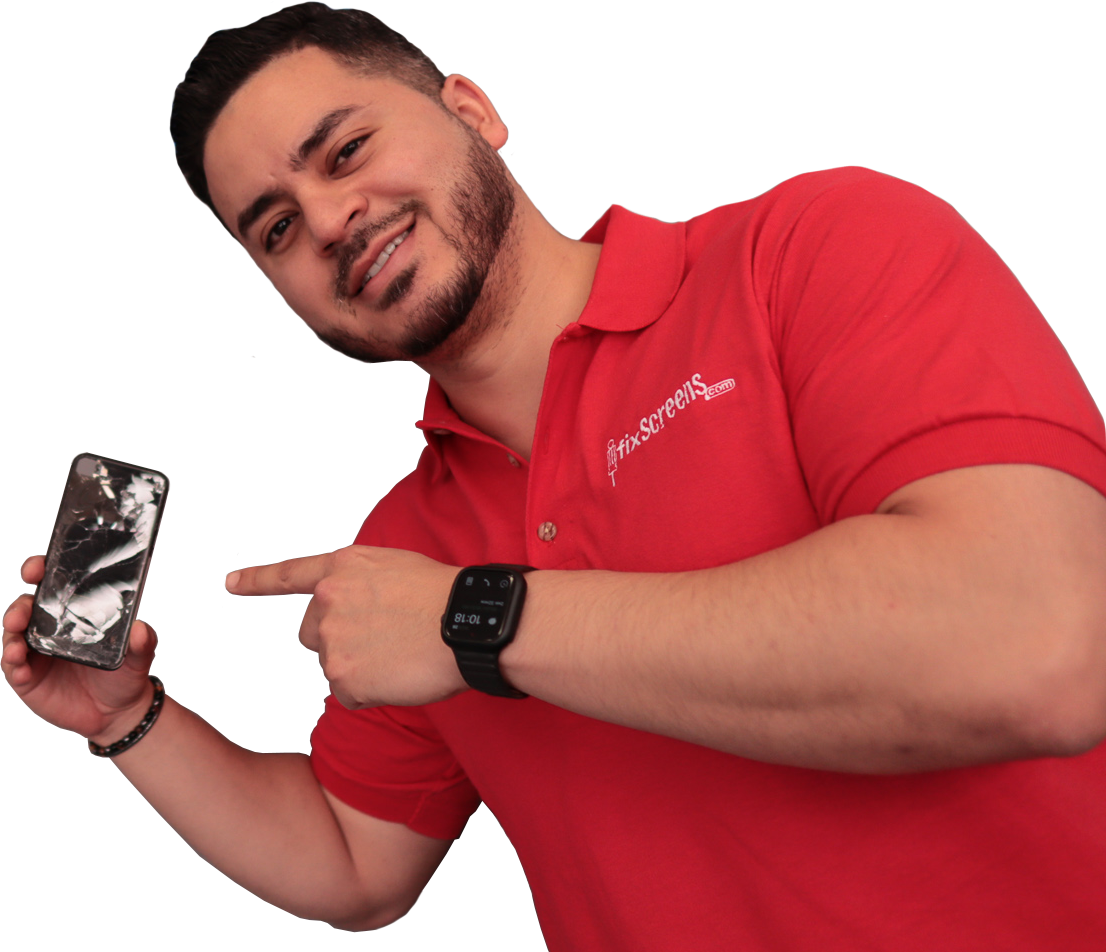 Free diagnostic For Your Device
Every repair for your HP Omen laptop starts with a complimentary diagnostic analysis. To identify what is damaged or malfunctioning, a technician will examine the device's operation during this process and look for damage. The customer can choose whether or not to proceed with the repair after the expert has identified the issue and devised a plan of action for fixing it. While you wait, we can start the repair.
LET THE EXPERTS FIX IT FOR YOU!
At iFixScreens, we assure you that all our technicians are certified to perform the Laptop repairs you need. Whatever the brand or model, our technicians are trained and capable of performing all the repairs consistently. With thousands of laptops repaired yearly, you can rely on us to return your Laptop to its original working condition.
SOME OF The MOST Common HP OMEN Laptop Repairs WE PERFORM
From HP Omen Laptop Screen Repair To Battery Replacement, We Are Here For You!
HP Omen Laptop Screen Repair
If the screen on your HP Omen Laptop is broken or cracked, just visit your local iFixScreens store. Our certified technicians will fix it on the same day at the lowest cost of repair. To get a free quote, just walk-in or give us a call
HP Omen Laptop Battery Replacement
In case the battery on your HP Omen Laptop is not holding the charge and drains too quickly, it is time to have the battery replaced. Visit your nearest iFixScreens store and our experts will replace the battery in less than 30 minutes.
HP Omen Laptop Camera Repair
In case the camera on your HP Omen Laptop is broken or not working, its time to replace it with a new one. Just visit your local iFixScreens store and our experts will fix it for you on the same day at the lowest cost of repair.