Bootable OS X Yosemite USB Install Key
Here's another cool How-to from I fix screens. In this tutorial we will show you how to make a bootable OS X Yosemite USB key, so you can boot OS X Yosemite from anywhere using a USB.
Step 1: Connect a 8GB or larger USB key to your Macbook
Step 2: Launch the Mac App Store
Step 3: Go to the OS X Yosemite application page in the app store and click on the Install button. *If you have already downloaded OS X Yosemite on your mac or have installed it, you will have to click on the "Download" button again.
Step 4: Launch the Disk Utility application. (This will be in the utilities folder)
Step 5: In the Disk Utility application, select the USB dive (This will be on the left and side)
Step 6: Click on the Partition Tab
Step 7: Under Partition Layout: set it to 1 Partition; change Name to: Yosemite; and Format: Mac OS Extended (Journaled)
Step 8: Click on the "Options" button and click on the botton that says "GUID Partition Table" then click OK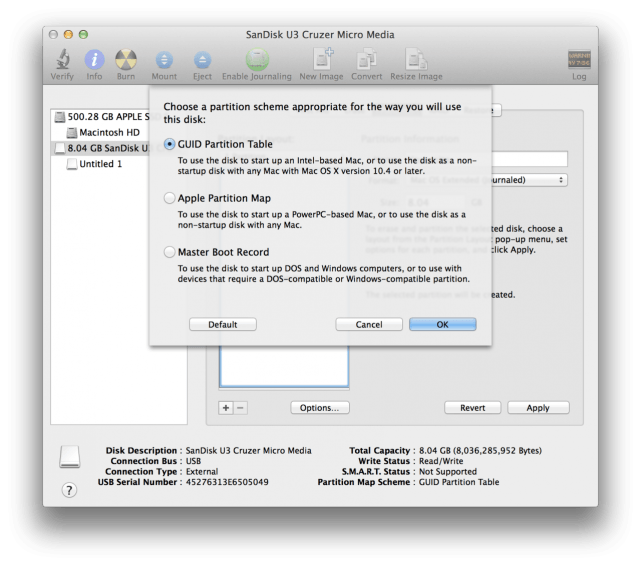 Step 9: Click "Apply" to save all your changes. When you are asked to confirm, clock the "Partition" button.
Step 10: Open and launch "Terminal" on your mac, (this will be located in the utilities folder)
Step 11: Make sure you do not have any other versions named "Yosemite" (other then the one we just created above) and make sure your empty USB stick is still inserted.
Step 10: Type or copy the following command into the Terminal Application window.
sudo '/Applications/Install OS X Yosemite.app/Contents/Resources/createinstallmedia' –volume '/Volumes/Yosemite' –applicationpath '/Applications/Install OS X Yosemite.app' –nointeraction
Step 12: You will be asked to enter your password. This is the administrative account password for your mac.
Step 13: After about 15-20 minutes your USB install Key for OS X Yosemite will be complete, you should see a "Copy complete" and "Done" on your window.
The i Fix Screens team does their best to keep you up to date with all the latest technology! While providing the best tips and tricks available! Don't forget, if you need a screen repair come down to any of our locations and let the i Fix Screens team assist you. If you break it, we can repair it! Our Mail-in address is also available to be as convenient to you as possible.